COVID-19 & Life Insurance...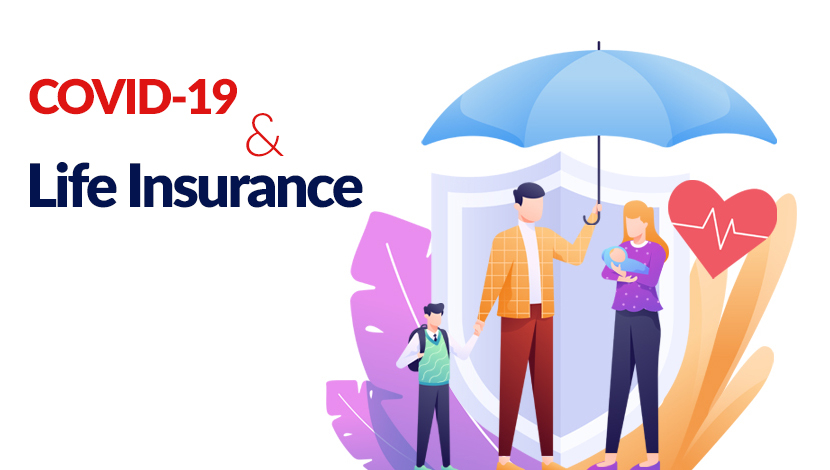 "Life is stressful right now. Life insurance doesn't have to be "
If you're new to buying life insurance, you may not realize that those who purchased it way before this pandemic or a few months ago may have had a different experience. Now more than ever, life insurance is an important element of many people's financial plans. You can imagine the kind of financial insecurity that people have, staring at these uncertainties. 
Frequently Asked Questions
Does life insurance cover Corona virus?
If you're applying for life insurance, a global health crisis like the corona virus can have consequences for your policy. But if you're already covered, your family will be paid out the death benefit in the event that you pass away from a pandemic illness.
Should you get life insurance during a pandemic?
While the short and easy answer is yes, it shouldn't take a global health crisis to instate necessary financial protection for you and your family. A pandemic doesn't mean end times, and the likelihood that you will die due to causes influenced by your local environment is actually a lot higher than dying from a pandemic illness.
Life insurance is a risk management tool, so anytime you have outstanding debts or people who depend on you for income, you should have a life insurance policy in place to protect your loved ones from financial suffering if you die unexpectedly and prematurely.
How does travel affect my life insurance application?
If you have recently traveled internationally or plan to travel to countries with coronavirus outbreaks, some life insurance companies may reject or postpone your life insurance application until / after your return, while others will proceed business as usual.
Each company has different policies in place about offering coverage for individuals who are traveling internationally, and it is important to check with the insurer to see what their travel guidelines are.
 
How does travel affect my current life insurance policy?
Any travel plans that were not misrepresented during your life insurance application process will not have an effect on your policy. If you had a policy in place before the coronavirus outbreak, were honest on your application about any travel plans you knew about at the time, and travel to a high-risk area now that your policy is in place, life insurance companies cannot cancel your policy or deny your beneficiaries the death benefit if you die.
What happens if I die from the coronavirus during the application process?
Life insurance coverage isn't active until you have officially signed for your policy and paid your first policy premium. If you pass away from the coronavirus during the life insurance application process, you do not have life insurance coverage and a death benefit will not be paid out to your beneficiaries unless you have temporary coverage in place.
 
What happens if I contract the coronavirus during the application process?
If you contract the coronavirus during the application process, it is important to be honest about this with the underwriter. There is a chance that the life insurance company will postpone your application until after your recovery, but any dishonest or omitted information can lead to your ineligibility for a policy or your policy's cancellation.
Would the death benefit be paid out if I have an active life insurance policy and pass away from the coronavirus?
There is no life insurance exclusion for the coronavirus and as long as you were honest during the application process, a life insurance company will not deny the death benefit to your beneficiaries if you die from the coronavirus.
If you misrepresented any travel, doctor visits, or other pertinent information during the life insurance application process and then later die from the coronavirus when your policy is active, insurers can then deny your beneficiaries the death benefit.
Are there any other changes to my life insurance policy I should know about?
At the moment, life insurance companies are acting as they normally would and treating the coronavirus outbreak as they would any other illness or travel advisory. There may be a delay in your application, and if you don't disclose a coronavirus diagnosis during the underwriting process, your policy may be canceled later on. If you have a policy in force, life insurance companies cannot penalize you for getting ill or traveling to an area with an outbreak of the coronavirus.
Key Notes:
Life insurance policies already in place likely won't see any changes due to a pandemic like Covid-19.
 
People applying for life insurance policies during a pandemic should be completely honest about any past or future travel plans, otherwise their policy may be invalidated.
 
How each life insurance company will respond to life insurance applications during the corona virus outbreak, varies across insurers and its best practice to ask from an experienced advisor who is able to find you a life insurance policy that accommodates your individual needs.
No medical exam 
Coronavirus is causing delays with some life insurance applications. Most life insurance companies offering NO medical exam policies BUT with age and amount limitations.
Getting a policy that doesn't require a medical exam still requires recent medical records. If you want a faster turnaround time you can apply for guaranteed issue policies which have higher rates as they cover some pre-existing conditions as well.
We work with large life insurance companies that offer this supplementary coverage without a medical exam. So if you think that you are a candidate to apply for life insurance, think seriously.
Do not forget we are all into this together, and we are always here for you.
With all our best wishes to you & yours…