Do You love your family? READ this…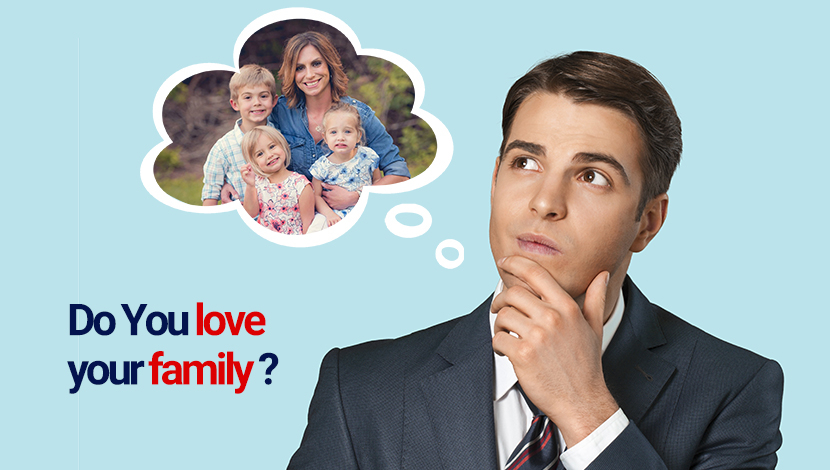 This is a serious question and you have to answer it honestly. You love your spouse, your kids, your parents, so  Why is it important to have life insurance?
 It's a financial safety net for your loved ones
Have you ever thought that if a premature death which is very common these days happens to you, what will happen to your family?  The last thing you want is for them to be left in a financial burden. The primary reason for purchasing life insurance is to help our loved ones shoulder the financial burden of our death. The proceeds from our insurance policy can go towards burial expenses and every day bills or ThingslikeMortgage or your kids' education when the time comes.
 
You don't want to leave debt behind
Ideally, you're working hard to pay your DEBTS , but life doesn't always follow our plans. If you were to die suddenly/prematurely, you wouldn't want your family to be left with the burden of credit cards, car loans, student loans or a mortgage. A life insurance policy could help clear all outstanding and will help your loved ones financially.
 
You own a business
Speaking from experience, it is great to own our business. You might have a business partner or run the business with your family's help. Life insurance can help protect the investment of time and money you've made in the business and an indispensible asset .
 
 It's your legacy
If you're in your 20s, 30s, or 40s, you might not be thinking about leaving a legacy behind. But, it's never too soon to consider it. Ask yourself what you want to leave behind for your kids and loved ones. Life insurance will be paid to them lump sum and TAX FREE.
 
It's affordable
The most common roadblock to getting life insurance can be the assumed cost of premiums, but it can be very affordable.
 

Here are a few examples of monthly premiums for a Term Life Insurance. The cost of coverage varies based on factors like age, gender, health, term length and coverage amount. These premiums are for non-smokers in good health.
 

|        | Age | Coverage Amount | Term Length | Premium |
| --- | --- | --- | --- | --- |
| Female | 35 | $500,000 | 20-year term | $25.74 |
| Female | 40 | $500,000 | 20-year term | $36.67 |
| Male | 35 | $500,000 | 20-year term | $34.06 |
| Male | 40 | $500,000 | 20-year term | $50.07 |

 

You can get the best (reduced ) rates the younger and healthier you are, but don't let age or health put you off. Even if you're in your 30s, 40s or even 50s already, life insurance can still be a sound — and budget-friendly — purchase.
 

Buying life insurance is easy
Usually people think that applying for life insurance can be a very time-consuming process, but these days it's as easy as 1-2-3 . Canadian Leading insurance companies have made it easy for you to apply, and the process has become much simpler. It's a modern way to buy life insurance that leaves you with no excuses for putting it off.

"It's not just easier life insurance, it's an easier life."
 

The peace of mind is worth it
We all want reassurance that we're doing the right things with our finances and protecting our families. That's what life insurance can give you, peace of mind in knowing that if the worst were to happen, you've protected those who are the most important to you. In the meantime, you can live life and enjoy your family which is what matters most.
Now, what is your answer ??
Contact us for a complimentary consultation with NO obligations.